Hometown flavors" created by delicious local produce
Please enjoy our offerings, which range from meals to tea. Our featured dish is obanzai, a delicious, healthy Kyoto-style dish made from local southern-Kaga ingredients.
We also have a wide selection of Western dishes.
Menu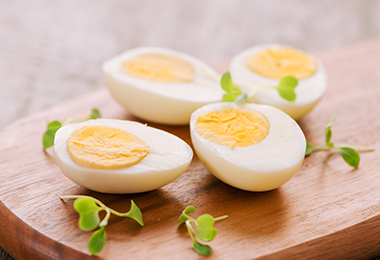 Egg dishes
Boiled eggs from "Noto Chickens" raised on plant-based feed and herbs.
The main feature of eggs from "Noto Chickens" is that when they are cooked, their yolk is whitish— it doesn't turn brown easily.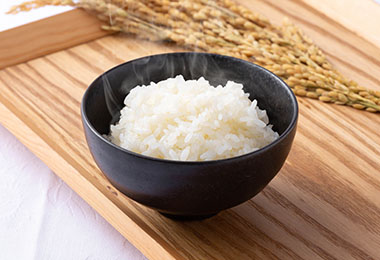 Rice
We use Yumemizuho rice grown in Ishikawa Prefecture. A delicious rice from the same pedigree as the Koshihikari variety, it has a simple flavor, and just the right stickiness.
Enjoy freshly cooked white rice with various accompaniments.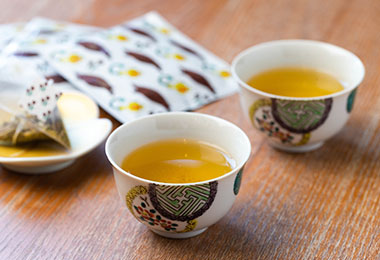 Tea
We serve teas from the "Kaga Iroha Tetra Series", a popular line of products from Maruhachi Seichajo, a company that produces and sells high-quality teas in Kaga City, Ishikawa Prefecture.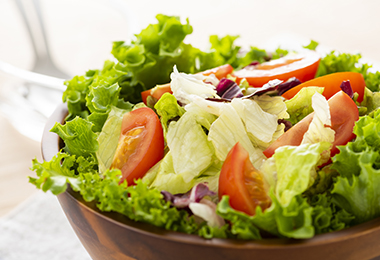 Salads made from local vegetables
We order fresh vegetables directly from city greengrocers.
Enjoy a lot of delicious vegetables.
The types of leafy vegetables differ according to the season and the day.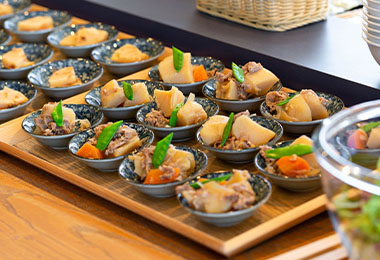 Obanzai made from local ingredients①
We recommend our meat and potato stew made with Noto beef. The umami of the beef makes this a luxurious obanzai.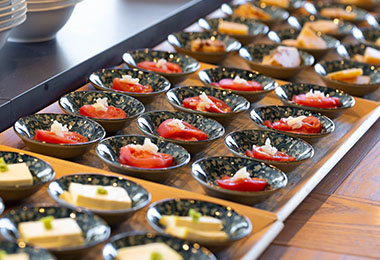 Obanzai made from local ingredients②
Pickled Komatsu tomatoes. Komatsu City is a major tomato-growing area. The umami of fresh tomatoes is sublime. These pickles are recommended for recovering from fatigue.
Buffet menu
Salads

・Mixed salad of local vegetables
・Salad of the day (e.g. potato salad, squash salad, burdock salad, etc.)

Main dishes
and
side dishes

・Local-produce obanzai of the day (6 dishes)
  (e.g. Noto beef and potato stew / Nomi Neagari grated yam / Hakusan firm tofu / Komatsu pickled tomato / lotus root with plum pulp / vegetable and bean hotchpotch, etc.)
・Boiled eggs from chickens raised on herbs
・egg dishes(omelet, Japanese rolled omelet, scrambled eggs, fried egg, etc.)
・sausages, etc.
 (e.g. sausages / bacon / ham steak / meatballs with vegetables, etc.)
・grilled fish, etc.
 (e.g. mackerel grilled with salt / grilled Japanese Spanish mackerel pickled in Kyoto-style miso / Japanese amberjack teriyaki / Matsubara's red rockfish boiled in soy sauce, etc.)

Rice
and
bread

・White rice(Yumemizuho rice from Ishikawa Prefecture)
・Four types of bread
・Miso soup
・Other soups(corn soup, consommé, etc.)
・Six types of rice accompaniments
 (e.g. dried sardines mixed with pickled plum / pickled vegetables / matsumae pickles with wasabi / ground pork with miso / laver boiled in soy sauce / pickled plum, etc.)
・Fruit, yogurt, etc.

Beverages

・Maruhachi Seichajo teas(Kenjo Kaga twig tea, Kaga tea with roasted rice, green tea from Higashi -tsuno, Tosa)
・Black tea
・Oolong tea
・Juice(orange, apple)
・Milk
・Coffee
※The menu changes daily.
※The menu may be changed without notice.
Information

Breakfast service: 6:30 am - 9:30 am