About
Located next to JR Komatsu Station, Hotel Gran Binario KOMATSU is also close to Komatsu Airport. At the gateway to Hokuriku, this is an ideal lodging location for business travelers and tourists coming from Japan or abroad. We are a higher grade of hotel for business and personal use, with rooms noted for their spaciousness and cutting-edge facilities, welcoming everyone from long-term guests from overseas to VIPs from this country and abroad with top-class hospitality.
LogoAbout Granbinario
Granbinario is a coined word from the Italian words Grande and Binario. Grande (shortened to "Gran" ) means "big, great or long" and Binario means "platform" or "railway line" in Italian. Combined "Granbinario" comes to mean "a more wonderful way to start your journey."

Hotel Granbinario Komatsu's (or, abbreviated as "HGK") logo is a stylised, as seen from it's base. The cone's spindles radiate from the centre in a beautiful spiral shape. The lines extend from the centre (HGK) to the outside and the lines from the outside to the Centre (HGK) representing the starting point of the journey (the base of the cone), and Hotel Granbinario Komatau.

It is said that the city gets its name from the pines ("Komatsu" literally means "small pines") that were planted along the Kakehashi river for Emperor Kazan's visit during the Heian period.
Service
The concierge staff will be at your service from check-in to check-out.
Our hotel uses a smart check-in technology to allow you to look for reservations and pay fast and easily. Our concierge staff will help you if it is the first time you use our hotel or if you are not comfortable with technology.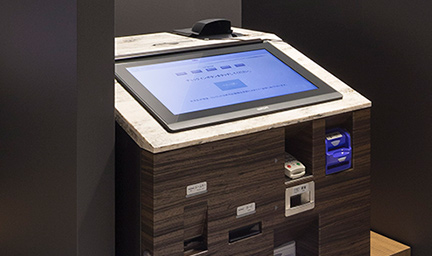 A warm tea and a warm welcome.
Our welcome starts with a warm cup of tea. Its gentle warmth spreads from the cups made by prestigious local Kutaniyaki ceramic artists. Relax from the tiredness of your travels with a nice cup of tea.
*Komatsu's tea ceremony:

When Kaga's second feudal lord Maeda Toshitsune retired in Komatsu, he encouraged the production of tea as a mean for economic revival. As Senso Soshitsu from the Urasenke tea ceremony school was brought into the town, this cultural tradition has flourished for generation after generation.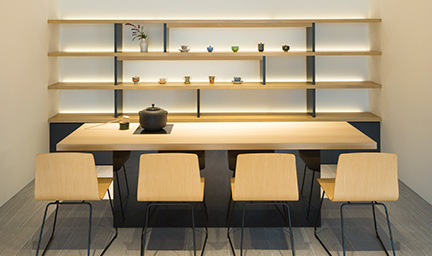 ArtArt design greeting the guests
Lobby art
Mr. Shinbo

Komatsu has a lot of beautiful field panoramas. The lobby lounge is adorned with a picture of the Hakusan mountain range drawn by Shinbo.

Mr. Kim

A sculpture by artist Kim Jungil, inspired by the pinecone, symbol of the hotel, is displayed in the lobby.
Ceramic sculptor
Kim Jungil
Art in the guestrooms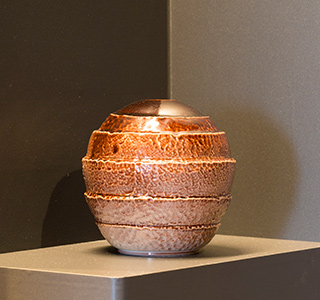 Mr. Asakura
In the guestrooms we use artworks of the typical "kutaniyaki" style. The panel art created by ceramic artist Hiroaki Asakura has different styles and colors in every room.
Kutaniyaki ceramic artist
Hiroaki Asakura